howard menu
1841 W. Howard St., Chicago, IL 773-764-7300. Please call ahead for carryout.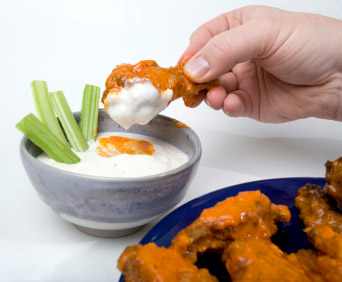 Open:
Sunday 11:30am - 10pm
Monday 10:30am - 9pm
Tuesday - Thursday 10:30am - 10pm
Friday & Saturday 10:30am - 11pm
BUFFALO JOE'S WINGS
Tossed to order in Joe's sauce; they're served hot and buttery with chilled celery sticks and ranch.

Single Order $11.99
Mild, Spicy, Suicide or BBQ.

Double Order $22.49

Single Party Pan $76.99
Serves 6-8, Wings Only!

Double Party Pan $144.99
Serves 16-24, Wings Only!

Celery & Ranch Dressing $7.59
A single pan of celery sticks with ranch cups.

12 oz. Bowl of any Sauce $4.99
With single or double pans only!

Pint of Ranch Dressing $4.99

Pint of Joe's Wing Sauce $6.99

Don't like bones? TRY OUR TENDERS!
**Party Pan of Tenders Available*

BBQ BONANZA
Rib Tips - 6 Wings $10.49
Fries & Drink

Hot Link Basket $6.49
2 Hot Links, Fries & Bread

Hot Link Pack $3.99
Hot Link & Fries

One Hot Link $2.89
Only one Hot Link

Bonanza Jr. $7.19
Tips, Hot Links & Fries

Picnic Basket $8.99
Fish, Hot Link, 4 Wings, Fries & Pop


HOUSE SPECIALTY
FISH CHIPS
Small Nuggets of Joe's Fish
Choice of Cocktail or Tarter Sauce

Single Order $3.99

Double Order $6.79

Single Chips & Fries $4.99
Double Chips & Fries $7.79

Jumbo Shrimp Pound $11.99

Jumbo Shrimp 1/2 Pound $7.99

Cocktail or Tartar Sauce 2 for $1

Jumbo Shrimp Dinner $12.49
With Cole Slaw, Fries, Toasted Roll and Cocktail or Tartar Sauce.
SANDWICHES
Served on a Toasted Local Fresh Baked Roll
Extra Cheese Add 0.49
Joe's Fish Sandwich $5.49
Two hand-breaded filets with tartar sauce, lettuce and tomato.
Joe's Junior $4.29
One filet, same way!
BBQ Chicken $5.49

Grilled Chicken $5.49
Mayo, Lettuce & Tomato

Arizona Chicken $7.49
Lettuce, Tomato, Cheese, Bacon, Grilled Onions and Wing Sauce.
GUMBO, CHILI, & SOUP
Bowl $2.79
Pint $2.99
Quart $5.49
SEAFOOD DINNERS
With Cole Slaw, Fries, a Toasted Roll, & Cocktail or Tarter Sauce. Approx. 1/2 lb portion
Joe's Fish Dinner $7.59

Jumbo Shrimp Dinner $12.49
RIB TIPS
French Fries and Bread, Served: BBQ, Mild, BBQ Spicy or BBQ Suicide.

Small Order $9.99

Large Order $13.99

Single Party Pan $49.99

Double Party Pan $79.99

CHICKEN TENDERS
Tender Strips of Chicken Breast with our Special Blend of Seasonings.
Chicken Tender Dinner $7.99
Half pound of chicken tenders with fries, coleslaw, toasted roll and BBQ (mild, spicy or ranch dressing)

Chicken Tenders Small $5.99

Chicken Tenders Large $8.49
BURGERS 1/4 Pounder
Condiments: Ketchup, Mustard, Pickle, Lettuce, Tomato, and Onions.
Single Burger$3.89

Single Cheeseburger $4.29

1/2 Lb. Double Burger $5.19

Double Cheeseburger $5.79

Bacon Double Cheese $6.39

SIDES
French Fries $2.49

Cheese Fries $3.19

Spicy Cheese Fries $3.39
Hot Cheese, Hot Sauce, and Topped with Hot Jalapenos.

Corn on the Cob $1.69

Fried Mushrooms $3.29

Cole Slaw .69

Large Cole Slaw $1.99

Toasted Roll .79
SALADS
House Salad

Sm. $3.49
Large $4.49

Grilled Chicken Salad

Sm. $5.49
Large $6.49
EXTRAS
Cheese Cup .79

Sauces 2 for .99
Cocktail, Tartar, Ranch, & Cheese

Peppers .49

DESSERTS
Oatmeal Chocolate Chip Cookie .79
The most heavenly cookie with gooey chocolate chips

Cheesecake $2.99
Sweet Potato Pie $2.99
DRINKS
Featuring "RC" Products
Per Can .69
Per Litre 1.29